Rawhide Hammers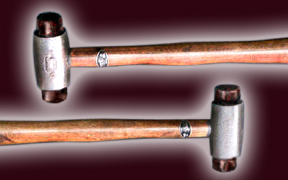 Arsenicated Buffalo Hide faces tightly coiled and heavily pressed on powerful Hydraulic. Press fixed into the recess provided in the Hammer head. Faces and Hammer head turned for correct balance for a faultless blow. One of the best rawhide hammers and rawhide mallets in the world today.
Firmness and resilience of blow that will neither dent nor damages a finished surface are the outstanding characteristics of this Hammer. Supplied with easy to grip wooden handles. spare tips available.
Used extensively by Transformers manufacturers and repairers, Automobile works, Aircraft works, Engineering concerns, Tool Makers, Mechanics, Fitters, Sheet Metal & Wood workers, Plastic Molders, Foundry workers, Electricians and Assemblers, etc.
Our prices are extremely competitive with assured deliveries for bulk orders.
| | | | | | | | | |
| --- | --- | --- | --- | --- | --- | --- | --- | --- |
| Ref. No. | RH-21 | RH-22 | RH-23 | RH-24 | RH-25 | RH-26 | RH-27 | RH-28 |
| Size | x | 0 | 1 | 2 | 3 | 4 | 5 | 6 |
| Dia mm | 22 | 25 | 32 | 38 | 44 | 50 | 70 | 89 |
| Appx kg | 0.320 | 0.440 | 0.610 | 0.900 | 1.560 | 1.990 | 3.500 | 6.350 |